Campground, Marina & Park
165215 W. Crow Butte Road
Paterson, WA 99345
Located off Highway 14
at Milepost Marker 155
April 1 – September 30
from Dawn to Dusk
Boat Ramp Open Year-Round
Day-Use Hours: Dawn to Dusk
Campsite Check In: 3 p.m.
Check Out: Noon
Enjoy the


Sun, Water and Natural Beauty


of Crow Butte Park
Recreational Activities & Amenities
Spend the Day or Camp with Family and Friends
The majestic Columbia River is the focal point of Crow Butte Park. This popular camping and recreational destination is nestled within mature shade trees on the 1,500-acre Crow Butte Island in Benton County. The island is situated along the Northwest Discovery Water Trail, traveled by explorers Lewis & Clark. The area is also adjacent to a portion of the McNary National Wildlife Refuge, where shorebirds, songbirds and migratory waterfowl congregate.
Crow Butte Park has six miles of shoreline, a marina, a spacious grassy park with a playground and a full-service campground. The park is a favorite of boaters, water sports enthusiasts, hikers, anglers and families coming to picnic or play in the water.
Fuel Available in Paterson (Automated Cardlocks)
Drive Time to Crow Butte Park
The 275-acre park is 12 miles west of Paterson, Washington, on Highway 14.
How We Enjoy Crow Butte Park Together
Help Us Provide a Positive Experience for Everyone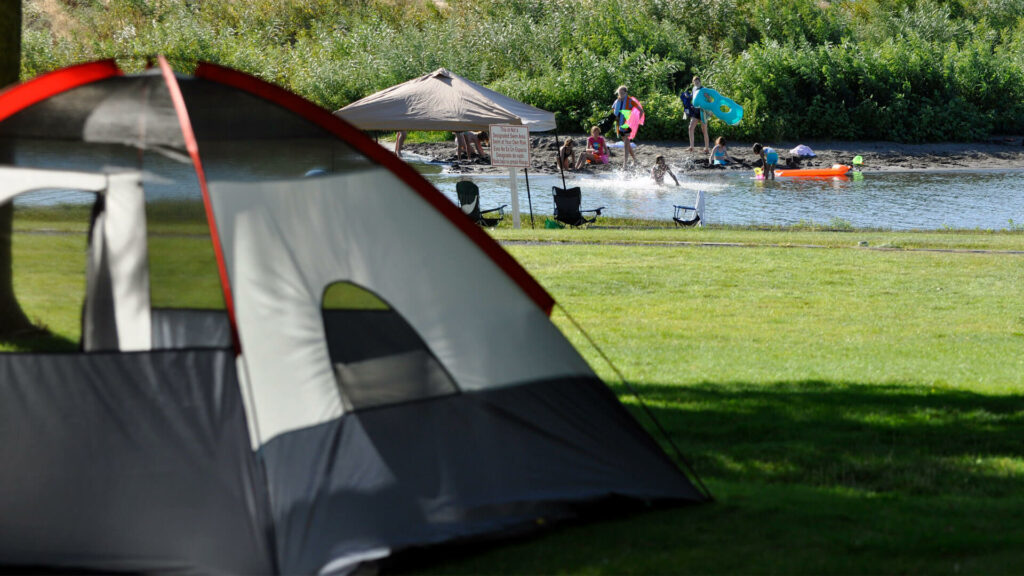 Online Reservations are open for the 2023 Season!
$30/night for Veterans. One tent maximum with RV.

$10/night for Veterans. Two tents maximum.

Large Group Camping

$80/night

Multiple tent site in a primitive campground for groups larger than 15.

Each campsite can accommodate approximately three vehicles, including a combination of RV, vehicle, and/or boat. All vehicles must stay on the asphalt. Vehicles that do not fit within the campsite must be parked in the day-use or marina parking area for an additional daily fee.
The U.S. Army Corps of Engineers breached the Crow Butte area with Lake Umatilla's waters, the reservoir behind the John Day Dam that the Corps completed in 1971. The floodwaters surrounded the higher land, creating Crow Butte Island.
The Corps built a causeway connecting Crow Butte Island to shore and created Crow Butte Park on the island in the 1970s as a recreational amenity for the community to mitigate construction impacts of McNary Dam (located several miles upstream).
Decades later, the parks future was in question. To keep the park open, Port of Benton offered to step in as operator and signed a management agreement with the U.S. Army Corps of Engineers in August 2007.
Learn more about the history and cultural significance of Crow Butte.